For any BIPOC individuals looking to get a foot in the door for the brewing industry, see this information that was sent to us from our friends at Link Up:
Link Up Announces Brewing Scholarship for BIPOC Participant in Partnership with Niagara College
AUGUST 10, 2023. Craft beer-focused non-profit, Link Up, have partnered with Niagara College to announce the Link Up Beer BIPOC Scholarship for the Brewmaster & Brewery Operations Management full-time program for the September, 2023 term.
Niagara College's brewing program is renowned across Canada and beyond for the quality of both their educational offerings and the outcomes for their students. They have been responsible for the careers of many incredible brewers, resulting in some of the most renowned breweries in the country.
Link Up's mission to proactively encourage diversity in the craft beer industry via education and networking opportunities is seamlessly aligned with the work that Niagara College proudly does, so partnering with the educational institution is a perfect pairing.
"It has always been the vision of the Link Up organization to place BIPOC individuals on a track to key roles within breweries, whether that be in brewing, leadership or ownership. This scholarship truly feels like the first milestone to fulfilling that vision, and we can't wait to follow the journey of the recipient," says Tiffany Davey, one of Link Up's Co-Founders.
Raising funds via tri-annual collaborative beer series, community tap handles in bars and donations, Link Up is directing a $5,000 scholarship to support a first-year BIPOC student's path at Niagara College's Brewmaster & Brewery Operations Management program, which covers 50% of the 3-year tuition.
Applications are open now until October 9th, 2023. Potential students can head over to the Niagara College Scholarships and Bursaries for Domestic Students page, search for "Link Up", then hit "Download Form" to apply.
In addition to the scholarship, Link Up will leverage their extensive partnership network to provide mentorship throughout the applicant's 3-year journey, as well as support with a job placement in their field.
Link Up thanks their partners and sponsors across Ontario, Quebec and Vermont for making this scholarship possible: Cicerone®, Dominion City, Town Brewery, BreWskey, Third Moon, 5e Baron, Brasserie du Bas-Canada, OverHop, Blood Brothers, Nickel Brook, 4 Origines, Matron Fine Beer, Kahnawake, BG Brasserie Urbaine, Fine Balance, Bellwoods, Lost Craft, Rorschach, L'Espace Public, Willibald, Foam Brewers, Elora Brewery, Mascot, Toltek, Sonnen Hill, Mellön, Sir John, Counterpoint, Badlands, Merit Brewery, Great Lakes, Sawdust City, Rouge River, Goldenfield, Noctem, Wellington, Borèale, and BSG.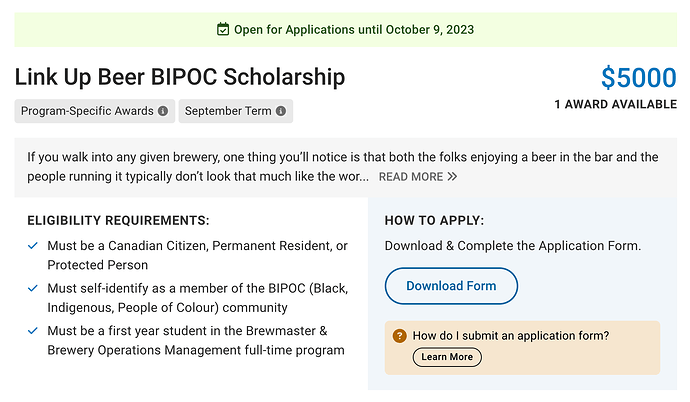 About Link Up
Link Up's mission is to connect and uplift talented and passionate individuals from BIPOC communities within the craft beer industry to diversify it and make it more welcoming to consumers from any culture. Link Up consists of a multi-pronged approach to diversifying the craft beer industry. On the brewery side, we focus on education, whether that be assisting BIPOC applicants in their journey to become a Certified Cicerone®, or providing financial support via scholarships for a beer-related program in educational institutions. Link Up expose BIPOC individuals who are new to craft beer to the possibilities within the industry, whether they simply become drinkers or want to pursue a career, it all contributes to growing and diversifying the industry. We raise money to assist our BIPOC applicants via our three annual collaboration series, our Link Up Got Bars Tap Program, and donations.
To learn more about Link Up visit linkupbeer.org
To become a Link Up participant, apply at applicants@linkupbeer.org
To become a Link Up partner, email social@linkupbeer.org